EUROPE BY BIKE
June 16 - July 23, 2002
The summer of 2002 I did a self-supported bike ride from Gothenburg/Sweden to Alicante/Spain. The year before I had ridden my bike across the U.S. on a supported tour with approximately 40 other bikers, mainly americans. This experience inspired me to discover my own continent by bike and also challenged me to do it on my own. From the beginning I had planned to do the whole trip by myself, but as it turned out a friend of mine from San Diego wanted to join me for the stretch between Switzerland and eastern France and one of my local training buddies flew down to southern France and joined me all the way to Spain. Before the trip I had also met a couple of touring cyclists on a swedish cycling forum, who were going in the direction of Prague, and we decided to do the first part through southern Sweden, Dennmark and northern Germany together. All though I find it quite tiring to be stuck with the same company day after day while travelling, I must admit I appreciated not being alone for the entire trip. Endless roads and isolated camp grounds can make the most independent person feel lonely at times.
The purpose of the trip, besides cyling through Europe, was to transport myself to Alicante in time for a 4 week spanish course during the month of August. This might seem like an odd idea, but somehow it made sense at the time. It was quite funny in class though, when we learned to talk about means of transportation in spanish. The teacher asked me (in spanish): "Anna, how did you get to Spain?", expecting the answer to be by plane or possibly by car. When I answered "En bicicleta!" (by bike), she was absolutely sure I had misunderstood the question or the meaning of the word bicicleta and therefore started gesturing and explaining it all over again. I, however, just looked calmly back at her and repeated: "Si, si, yo comprendo, en bicicleta!". When I wouldn't change my statement despite her various tries to make me say "en avión", she gave up , shook her head and decided there was no point to waste any more energy on me, since I was just trying to be difficult...
Before I left I had promissed to send regular updates and keep everyone informed about my progress. That turned out to be a lot more difficult than I had expected, considering that most campgrounds are located outside of town with no public internet access. However, below are extracts from the two reports I did manage to send. Now a days, with some perspective to the trip, I find them a bit blunt. I guess I have a tendency to over dramatize and develope a bad temper while in the middle of something strenous. If I were to write the same story today, I'm sure it would have a much more positve tone to it, but on the other hand it would not be nearly as personal and detailed. I've therefore decided to keep the two reports as the narrative of my trip through Europe by bike. Enjoy or appal!
REPORT FROM CHUR/SWITZERLAND, July 1st
I have now been riding for 15 days, ca 1700 km, and today I'm having my first rest day in Chur, western Switzerland. All in all the weather has been okay. A few thunderstorms at night, drizzles in the mornings, but no actual rain that has greatly influenced my riding. A few cold days, but mostly the weather has been warm and sunny with temperatures around 30 degrees Celsius, just as I like it.
For those of you who haven't done any self-supported bike touring, I can only tell you it's mostly hard work, problem solving and very little fun and pleasure, in my opinion anyway. I don't regret doing this at all, but I don't see myself doing another self-supported tour in the near future. Riding a bicycle with more than 30 kilos of luggage tied to it, destroys the whole joy of cycling, up-hill as well as downhill. Trying to find food and drinks and worrying about not getting fed in time is nothing but a big pain... There must be something like a million little villages in the endless countryside of Germany, but God knows where the people buy their food. There is only a food market in like a 1/10th of them and the few stores they have close between 12 till 3 pm, or something ridiculous like that. Of course, there are numerous "Bier-gartens", but that doesn't help much when travelling by bike...
The campgrounds are a different chapter. Just trying to located that damn little tentsymbol on the map in reality can mean another hour of unwanted, disoriented riding in some uninteresting suburb late at night, when you want to do nothing but shower, eat and go to sleep. Camplife is certainly not as romantic as one might be fooled to think. Sleeping bags are either too warm or too cold and sleeping pads are always too hard. Waking up at sunrise can also not be avoided (much to my frustration), as the tent feels like a sauna a few minutes later.
Well, don't want to sound too negative, after all this whole trip is self imposed, but I can't tell you it's a smooth and easy ride, 'cause it's not! My mantra has become: "Never again!!" which tells you something, I guess. Even so, I enjoy being here -sometimes- and I am getting a chance to see some beautiful roads and sights, but next time I'm definitely sleeping indoors and hiering someone to carry my luggage!
REPORT FROM ALICANTE/SPAIN, early August
My reports from the bike-ride have been somewhat sparse and highly infrequent, since my luxurious living arrangements along the route haven't been able to provide me with a computer and internet access, and sometimes not even hot water and proper toilet-seats... Well, I'll tell you all about it later. First, I'm happy to let you know that I've made it to Alicante, Spain - which was my final destination this summer - after 5 weeks and closer to 4000 km of cycling, with a daily average of 115 km.
I'm a bit embarrassed to tell you I've actually been here since July 23rd, without sending any evidence of being well and alive. There simply have been too many things to take care of, like buying a bikini and working on my sun-tan, as a desperate try to reduce the dreadful "farmer-tanlines" I got from being in my cycling clothes all summer. The first time I went to the beach was in Cannes (Cot d'Azur), after approximately 3 weeks of cycling. Going to the beach in a tiny swimsuit can be uncomfortable enough (especially for a women my age - too old to have a naturally attractive and firm body, but too young to be excused by age for any untightness or falling body parts) without looking like a complete idiot with striped skin and peeling red nose. Having other people laugh and point finger at you isn't exactly how you expect to be treated when you're trying to make a classy impression and pretend you're one of the residential movie stars. All I got from my one day of fame on the French Riviera was pink and painful shoulders. No glamorous party invitations or film contract. Life's a bitch!
Since I last wrote in Chur, Switzerland, many interesting and educating things have happened. That is, by the way, the best-behaved way to describe this trip; interesting and educating... Other descriptions don't look quite as appealing in print.The day before I had to climb over the Alps, Erik, from San Diego, joined my little Europe-expedition in Switzerland. Erik is not one of my biker friends from the US and therefore was extra brave to take this challenge on. I'm guessing he probably didn't know what he was getting himself into... Climbing over the San Bernadino pass, 2060 meters, was more than disappointing. I had expected gorgeous, panoramic views of the Alps as I was working my way up the hills, surrounded by Alp-flowers, -cows, and -huts. Well, I guess there were some cows and huts, but after a couple of hours the view was less than non-existent. I could just as well have been working out on my trainer in a dark, grey room. My Alp-experience turned out to be nothing but hard work, suffering and no pleasure what so ever... After 5 hours of climbing Erik decided he had had enough of cycling and mountains, and started searching for public transportation or, even better, accommodation. At this point, though, we were not only above the tree-limit but also above the civilization-limit. The only living creatures we encountered were two Italian speaking construction workers on a muddy field. From what we understood; The three km long tunnel going straight through the mountain was not to be used by cyclists under any circumstances (not even tired and aching legs). The nearest B&B was far down the hill we had already climbed. The next B&B was in a village on the other side of the pass. And, of course, the last bus for the day had already left. Not a very favorable situation when it's getting late and you're tired, wet and cold. The last little hill ahead was eight km of road winding back and forth for as far as we could see. We had a quick snack and sacrificed our last energy bars, which turned out to have an amazing effect on Erik. For the rest of the climb I saw nothing but his back. By the time we got to the top the visibility had decreased till no more than 5 meters, at the most... I almost had to struggle to find my handlebar and the panoramic view of the Alps was equivalent to a steam sauna. It only felt much, much colder! After a couple of pictures with stiff smiles next to the San Bernardino-pass sign, it was finally time to get crazy in the rewarding descent. Yeah right! With 30 kilos strapped to my bike, pouring water on the road, no visibility and failing breaks, I couldn't go any faster down the hill than up the hill. As soon as we entered the first village Erik's bike instantly stopped and refused to roll any further. I recall something about hypothermia, freezing rain, craziness, screw camping outdoors and before I knew it we were checked into a hotel...Which I admit wasn't so bad after all. Although, sleeping in roof covered facilities wasn't really allowed according to my Europe-expedition regulations, but I guess regulations are meant to be broken once in a while.
Leaving the mountains behind us the climate warmed up and we had nice and sunny weather as we rode along Lago Maggiore. A fairly big lake in northern Italy, framed by picturesque towns with beautiful houses, green mountains and snow covered Alps in the far distance.
Further south we enjoyed the Italian countryside, which mainly consisted of sunflower-, corn-, and water filled rice fields. It felt like we had our own Tour-de-France going on as we flew across the fields and raced through small Italian towns with cheering people. We had a great ride till the sun started to set, the catholic mosquitoes invaded the country (the must believe in what the Pope preaches about reproduction, 'cause I've never seen so many mosquitoes before) and we realized there were no campsites to be found in the area within reasonable distance. Closer to midnight, after having ridden in the dark for a couple of hours without any lights and having swallowed an uncountable number of mosquitoes, we finally found a grass field to camp on, next to a shack with cold water to shower in and a hole in the floor to do what ever you need to do when there are no regular toilets. For some reason Italians find it more enjoyable to kneel down and perform their natural business into a hole below their feet than to sit down as a civilized person on a comfortable toilet seat and peacefully read a magazine. I can assure you that kneeling down after 6 hours of cycling is not only painful, it's next to impossible! Apparently this was the Italian country version of a campground. Although I was quite happy at the time to find somewhere to clean up and put my tent, this place is definitely among the top 10 on my list of "places never to visit again"!
Arriving at the Mediterranean ocean was a special moment after having crossed the whole continent by bike, but of course it had to be difficult. We only made it there after climbing over another mountain ridge called the Alpes Maritimos. This time the sun was beating like never before and the cold and wet struggle over the Alps felt very distant. Along the Italian coast I seemed to cause much entertainment to the super fast Italian racer cyclists on their super light bikes. When they passed me in the numerous hills they laughed, waved their arms and shouted things like "loca, loca" and shook their heads as they counted the number of bags strapped on my bike (7 altogether).
Crossing the boarder to France gave me some hope to re-encounter regular toilets again, after a week of obstipation, but the conditions didn't really improve until later on. Who would have thought that even the fancy French people are so primitive behind closed doors? The French Riviera was without doubt the most beautiful section of my ride. It was my first time there and I sure got tempted to return some time soon and explore the area better. Meaning, next time I will bring a car and not try and see the sights while climbing the steep hills in Monaco, for instance, hauling my luggage by bike in 35 degree heat with a stupid camera around my neck!
In Aix-en-Provence a cycling friend from Sweden, Micke, joined me for the last part of the ride. I had planned to go through Andorra and over the Pyrenees, but this was before I made it down to southern France and felt the strong headwinds blowing from the mountains, known as the "Mistral winds". Now I can't even recall for how many days we rode in that storm, or what resembled a storm anyway. Sometimes we would not be able to go any faster than 10-11 km/h on the flats and other times we would just be struggling to stay on the bike and on the road, while riding in the hills at the coastal edge of the Pyrenees. It was quite a challenge I must say, physically as well as mentally, to keep going day after day under these circumstances. So much for sunny and comfortable weather conditions in southern Europe during the summer...
Because of the southwestern winds, we pretty much stayed on the coastal route all through Spain, except for a few diversions. When we got away from the mountains the weather once again improved. As we progressed to the south the heat would even become a bit too overwhelming at times, with temperatures closer to 40 degrees Celsius and hardly any wind at all to cool you off on the climbs. This really put some pressure on my sweat glands and kidneys as they did their best to cool me down and keep my fluid and electrolyte system in balance. I tried to compensate for the fluid loss by drinking between 5-7 liters/day, but still wakening up thirsty every morning. On some of the climbs it felt like I was just getting out of the shower, completely soaked and water dripping all over the place. I thought that girls weren't supposed to sweat?!
Well, I guess that's more or less the essence of my bike ride. I have now completed my first week of Spanish studies at the University of Alicante and I have already managed to upset both my teacher and the administration personnel by criticizing their ridiculously slow and inefficient teaching. In this short time I have also annoyed my temporary neighbors by parking my bike for a couple of hours in the entrance of their stupid building. They did not only leave me with an angry note but also with a flat tire! I replied by leaving them another note (practicing my Spanish) basically calling them fanatic fascists. Which felt like a natural thing to do the day after their fellow countrymen had placed a bomb in Santa Pola (15 km from here), and caused the death of two people when it exploded. As you can tell, things are going great and I feel like I really understand the Spanish mentality and fit right into the society.
Since I've been here I have also met a couple of interesting stereotype foreigners. One American girl, who was totally surprised her American dollars were not acceptable as payment in Spain. One Japanese girl, who was unhappy with her stay in Spain because she had too few classes, too little homework and too much spare time. And one Italian girl, who could not understand how the teacher could be complaining about her late arrivals when she always showed up within an hour after the class had started. In this multinational environment I'm sharing the apartment with a Hungarian girl who speaks Hungarian, Russian and Spanish, and a German girl who speaks German and some English. Since we have a little bit of communication problem in the house, I have become the designated translator and language coordinator with my English, Portuguese and to some extent also German and Spanish knowledge. Quite a demanding task as we plan and organize our living together, 'cause with a German in the house nothing can be done without order and structure.
Well, that's all for now. Another three weeks to go, many more Spanish words to learn and cultural differences to overcome.
Hasta luego chicos y chicas! Besos y abrazos.
Questions from my trip I don't have the answer to:
1. How is it possible that the wind is always working against me?
2. Why can't there ever be such a thing as an easy day of riding on this trip?
3. How can there be so many hills when the route looked so flat on the map?
4. How pathetic is my vacation when I envy people living in trailers with satellite dishes and plastic furniture?
5. Which would be the most efficient way to extinguish all the noisy and peace disturbing pigeons in southern France?
6. Why can't they just raise the camping fee by a couple of cents and include the toilet paper?
7. Would I find the French people less stuck up and ignorant if I could communicate with them?
8. What goes on in peoples' heads when you ask for directions to get to the other side of town with your bike, obviously equipped for touring, and get replies like: "That's too far to ride on a bike. You have to take the tram!"?
9. Exactly how primitive and stupid are Spanish men when they actually believe you get flattered by their screaming, gesturing and horn honking?
10. Why am I doing this???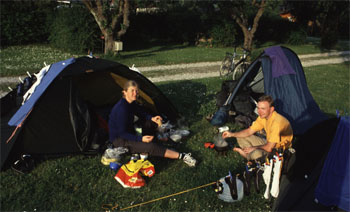 The joy of camp life; drying clothes and
cooking your meal on the ground.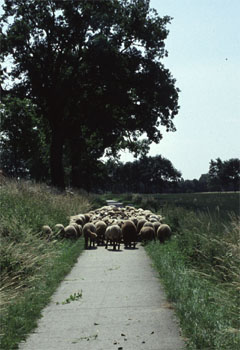 An unusual road obstruction
in the middle of Germany.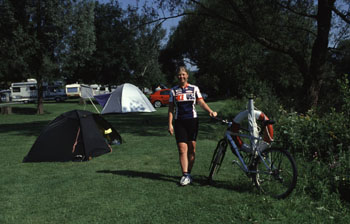 At a campground in southern Germany, close to Bamberg.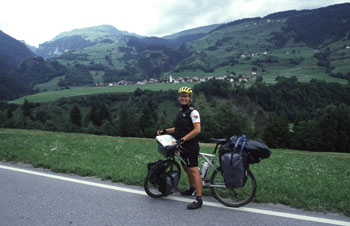 Climbing the Alps and enjoying the view,
while there still was one.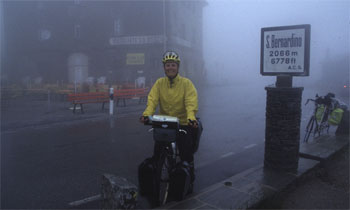 On the top of the San Bernadino pass,
2066 meters above sea level, wetter than ever...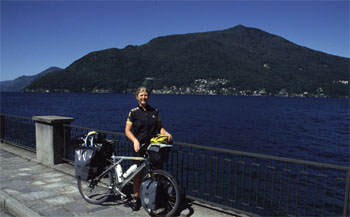 By Lago Majore in northern Italy,
after having climbed over the Alps.
Erik, posing in front of the sunflower-field
with his matching jersey
(who said the men aren't conscious about what they wear?).
Over-looking parts of Côt-Azur.
Relaxing from the strenuous climbs in Monaco
(it's not always easy to be a tourist!).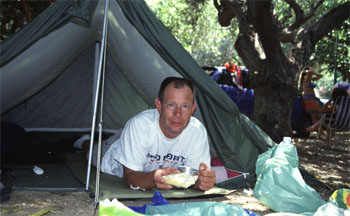 Micke, enjoying his breakfast at a campground in Spain.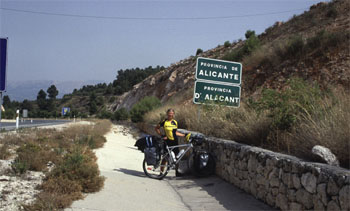 Crossing the boarder to the province of Alicante
after little over 35 days of riding.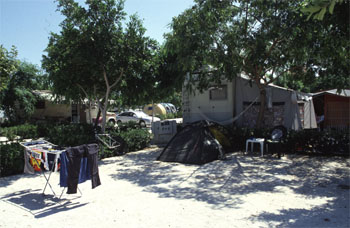 My favorite campground; a tentspot in the shadow,
a loaned plastic chair and table, and a personal WASH RACK.
What more could a girl possibly ask for?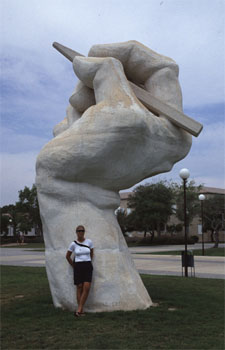 At the University of Alicante.